product details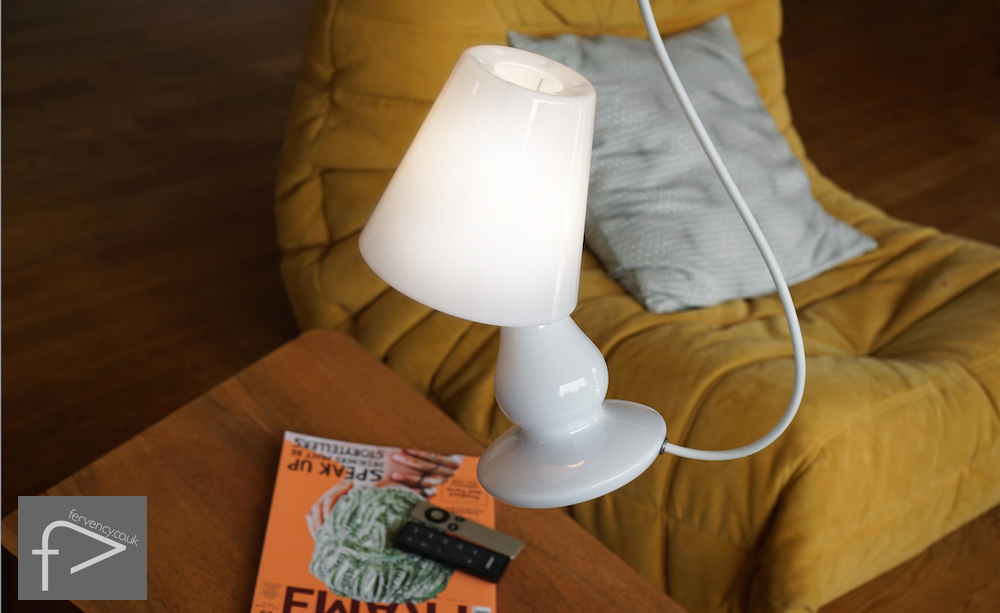 What do we at Fervency think about the Flap Flap Pendant Light...
Brilliant design, a good light is a feature as much when it is off as when it is on and this does it. The suspension via stiff steel rod and ring that is hung from the ceiling and disgused as the cable make a fascinating piece. This would look great as a quirky side light or even a centre piece for dinning table or hallway lobby.
Description
Sixteen years after designing the floor lamp FLAPFLAP, Constantin Wortmann has finally cracked it. With the new pendant versions of FLAPFLAP he has re-imaged the legendary luminaire and further developed the award-winning concept.

In best FLAPFLAP tradition the new designs also make a virtue of necessity by turning the power cord into the star:

The FLAPFLAP_single pendant, a single pendant luminaire with a switch integrated in the power supply cable, is a little simpler but no less spectacular. Again, Constantin Wortmann managed a design that seems to outwit gravity. The luminaire is suspended from the ceiling but at the same time seems to stand perpendicularly in the air. The fact that the shade can be adjusted in nearly every direc­tion adds an additional angle to the obliqueness of this design.

FLAPFLAP single pendant is the perfect tongue-in-cheek complement for classic interiors and add a touch of playfulness to cooler stylings.
Designer Constantin Wortmann Büro für Form
Brand Next (German Lighting Designer)
Material PC (PolyCarbonnate), Steel
Colour White
Bulb LED 6W; E14 ESL, max. 7W, Ø 45-55mm; Halogen, max. 48W, Ø 45
Package Size 64 x 28 x 17cm
Weight 1.7 kg
About the designer
Constantin Wortmann Büro für Form
Wortmann studied design in Munich, followed by an internship and several freelance design projects for Ingo Maurer. In 1999 he co-founded the design studio Büro für Form with Benjamin Hopf. Numerous international awards and exhibitions confirm the success of the studio which focuses on interior design, industrial design, furniture design and lighting design. In 1999 Constantin Wortmann was introduced to Thomas Schulte in Leipzig and with him to next. But to call his work for next home collection just a freelance design job would be an understatement. Wortmann is part of the team, a member of the next familiy. Logo, CI, foto shoots, catalogue, trade fair stalls - all are unmistakably Büro für Form and definitely Constantin Wortmann.Thomas Schulte is the man who recognised the potential of Constantin Wortmann and had the courage to work so closely with the young and yet unknown designers. While Benjamin Hopf has been going new ways since end of 2006, Constantin Wortmann created Alien, NLC, COSMO and Enterprise for next and is once more toying with the viewing habits of his audience. Stay curious about what else he is going to design. We are looking forward with anticipation to what Wortmann is going to present next.