Wall Clock One 35 Radio Controlled Stainless Steel White Arabic by LEFF Amsterdam
product details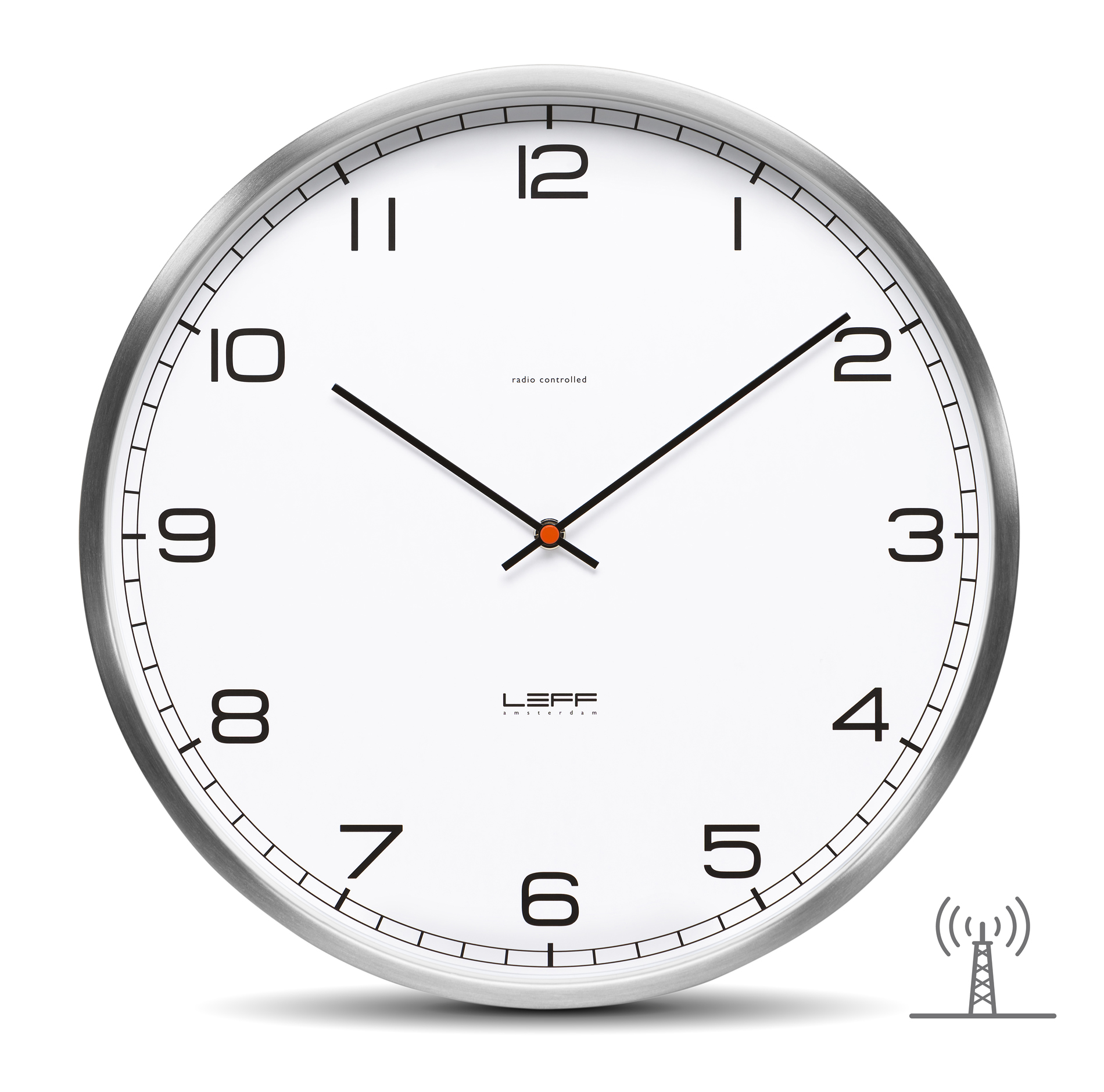 In addition to the index range, wiebe also designed an arabic dial. The clock is identical to the one index, except for the graphics of the dial. Its delicate hands and slim stainless steel edge give a nice contrast with the robust thickness of the clock. A perfect balance in these elements creates a pleasant and neutral clock as attractive decoration.
contents packaging wall clock stainless steel, AA battery, cleaning cloth, screw and plug, 5 year warranty certificate
year of release 2011
designer wiebe teertstra
item number LT10012UK
EAN code n/a
dimensions Ø35cm / 13.8″ – depth: 6,2cm / 2.44″
weight 1.4kg
power supply 1 x AA / LR6 / R6 battery (included)
materials frame: brushed stainless steel, back: ABS, surface cover: glass
dial type arabic
colour white dial paper with black print
movement type radio controlled movement NOTE: this clock is operated with a DCF radio controlled movement and functions only in western europe including UK. Further information by us at Fervency: The LEFF One35 clocks DCF radio controlled function is pre adjusted for the UK Time Zone, they are UK specific clocks. The DCF takes its time signal from Germany so it will be programmed to be adjusted for UK Time Zone and will also auto adjust to and from daylight saving via the signal from Germany which also uses the exact same daylight saving adjustments. The signal reaches 1500-2000 Kilometers, so unless you are in a valley in the Highlands of Scotland there shouldn't be any problem with the signal. Position of the clock could possibly effect the signal but unless your going to use it in a basement or position it very close of a lot of electrically noisy equipment it should sync fine.
PDF manual click here to view PDF manual or scroll down to see the basic instructions for setting the clock.
manufacturer warranty 5 year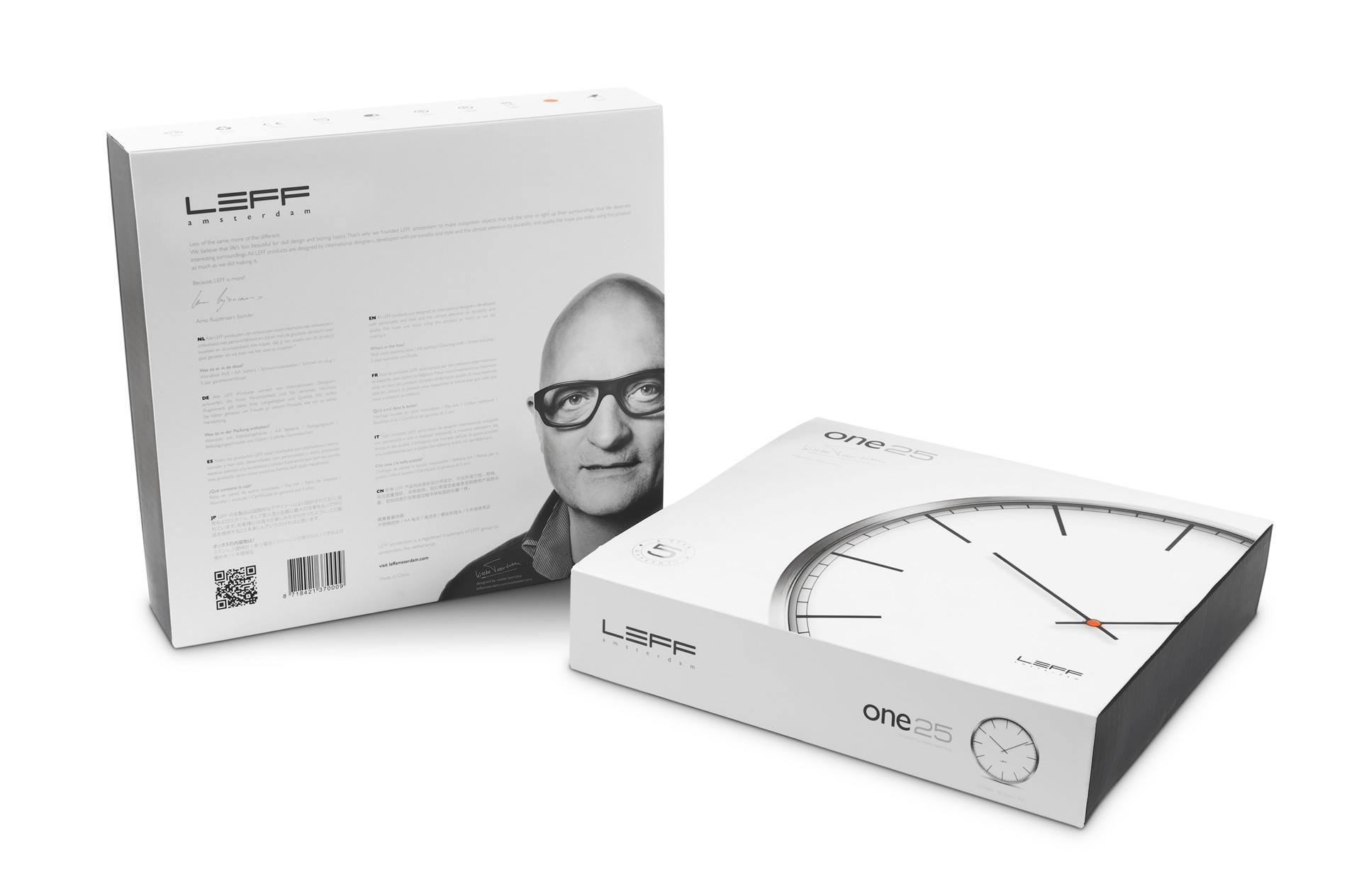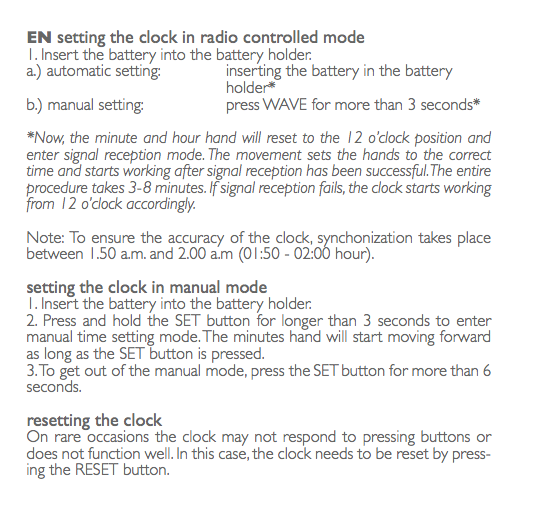 You may also be interested in the following product(s)