Martone Cycling Mens CHELSEA BLUE Bike 56cm/52cm
product details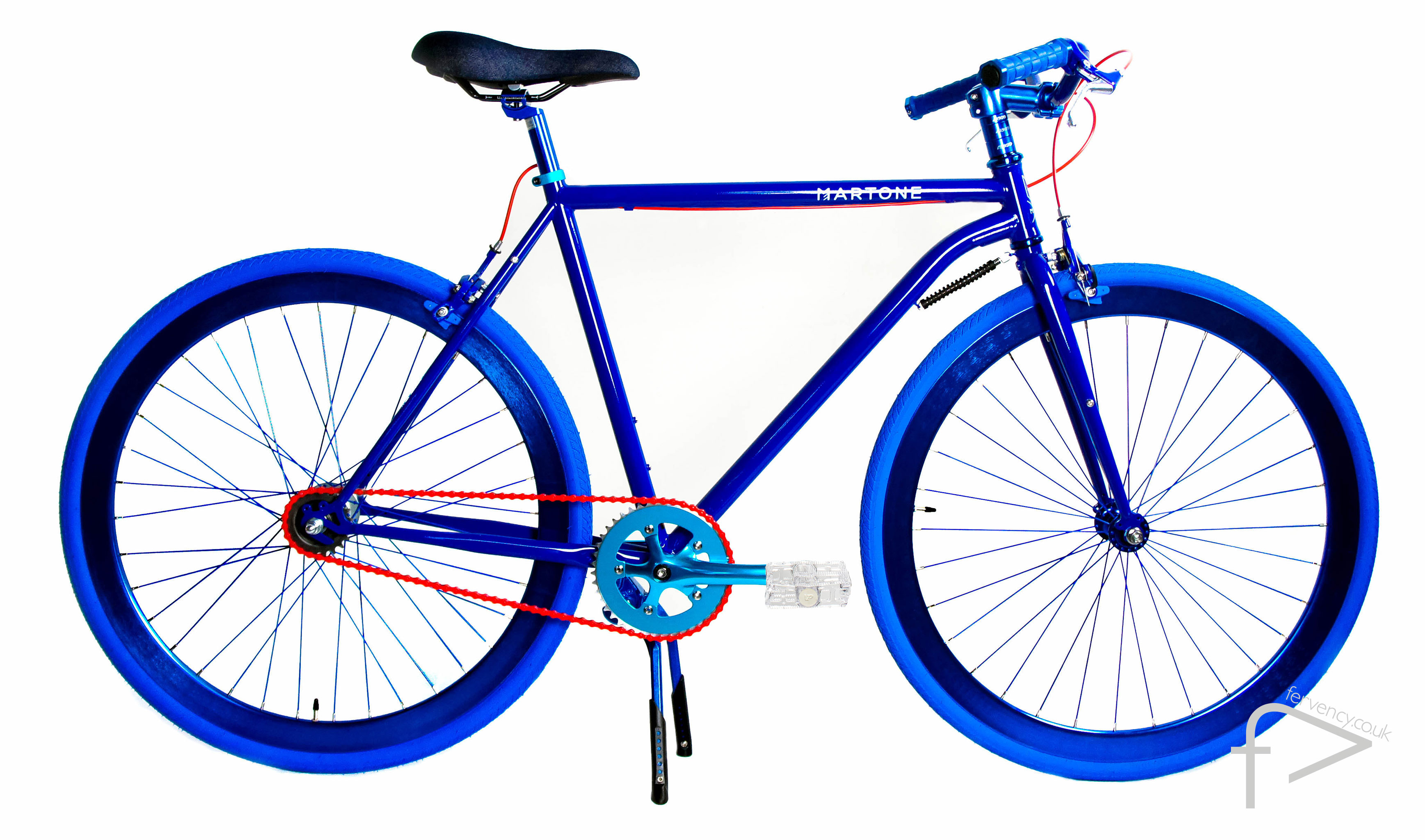 The Mens Matt BLUE Chelsea bike is composed of steel alloy and aluminum, weighing in at a mere 12 kilos. The wheels are 700 x 32cm wide with stainless steel hubs and puncture resistant tires to tackle city streets. Made by SRAM, the "MCC Duomatic" is an innovative 2 speed gear system that shifts gears automatically depending on slope and speed, letting the rider glide smoothly, in style.
The standard frame size is 56cm. NOW AVAILABLE 52cm Mens Bike Frame Size Available, Place your order and then email to confirm which frame size you want, we can supply either one, we will automatically email to confirm if you want the 56cm or 52cm before processing your order.
All mens Martone bikes do NOT come with the Basket Handle bars, but can be ordered upon request, womens bikes come with them as standard.
Technical Details

FRAME & FORK: Hi-Tensile Steel
STEERER TUBE: 1-1/8" Threadless (28.6mm)
BRAKE TYPE: Aluminum Caliper side pull
HANDLEBAR WIDTH: Width - 560mm – (Note Handlebar/basket all in one is no longer stanard on Mens bikes, to get one please email)
MATERIAL: Alloy T6
SPOKES: Stainless
TYRE: 28" (700 x 32c)
RIM SIZE: 26" (660mm)
WHEEL SET: 42mm Aluminum Double Wall
REAR HUB: 2-speed automatic shifting AUTOMATIX SRAM with built-in brake; no shifter, no cables, no maintenance!
SADDLE: 285 x 191 x 64 mm double density water resistant
CHAIN: KMC 1/2" x 1/8" (13 x 3mm) 96L always in RED
TOTAL WEIGHT: 28 pounds (12.7kg)

Assembly: Bikes come in boxes 80% built. The pedals, front wheel, saddle, kickstand and handlebar need to be assembled - Martone Cycling Co recommends you take your bike to a bike store to be assembled by a professional mechanic.
The process is not complicated to do - but only a professional can guarantee that your bike is safe to ride. A mechanic can also adjust the height of the saddle perfectly to your size - making the ride even more comfortable. All charges related to assembly are at your cost and vary from mechanic to mechanic. Once again: Martone Cycling Co. recommends you do NOT assemble your bike on your own - we understand it is an extra expense - but it is once in your bike's life time – and we care about your comfort and safety!

Click here to view or download the Martone Bike Assembly Instructions in PDF Format.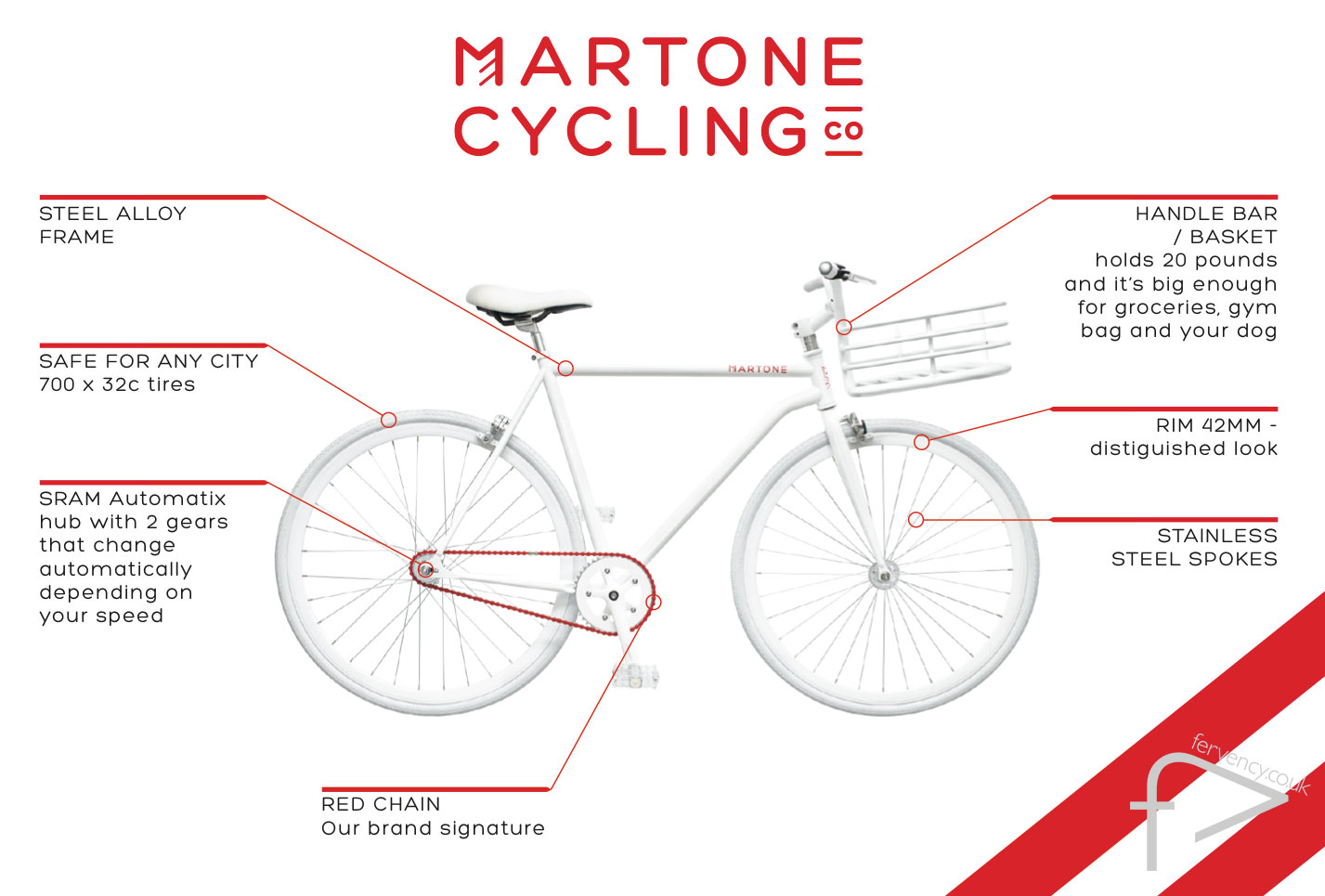 ABOUT MARTONE CYCLING CO by Lorenzo Martone
My happiest memory as a kid is from Christmas 1985. Santa walked in, carrying this huge red bag, with my very first bike inside. It was the happiest day of my life, and certainly the most memorable. I'd been writing letters all year long to the North Pole, but getting the bike I'd wished for so much was almost too much to believe. That bike became my best friend for a very long time. "Fina" (Portuguese for skinny) was her name...and she had her own special room in my parents' house for proper "rest." I was obsessed with Fina, almost as if I knew making bikes would become my career 28 years later.

Martone Cycling Company is a fashion- and design-driven bike company. Our bikes are a bold statement of personal style: city bikes, created with passion—with a red chain on every bike we make. We believe that, if you're like us, you're always carrying something: a tote, a gym bag, groceries, a dog...who knows?
That's why all of our bikes can have a basket built into the handlebars, to make your life easier, in style.

A bike that looks as good as it rides? There's more then meets the eye, here: each MCC bike is powered by SRAM's innovative duomatic gear system, which automatically adjusts and changes gears based on the speed you're riding. Its an entirely unique riding experience - and one you'll find only on our bikes.

We're the red chain brand. The handlebar + basket brand. The duomatic brand. Welcome to a whole new world of cycling that suits your style.

Enjoy the ride, - Lorenzo
You may also be interested in the following product(s)