Martone Cycling Womens MERCER Black Bike 44cm
product details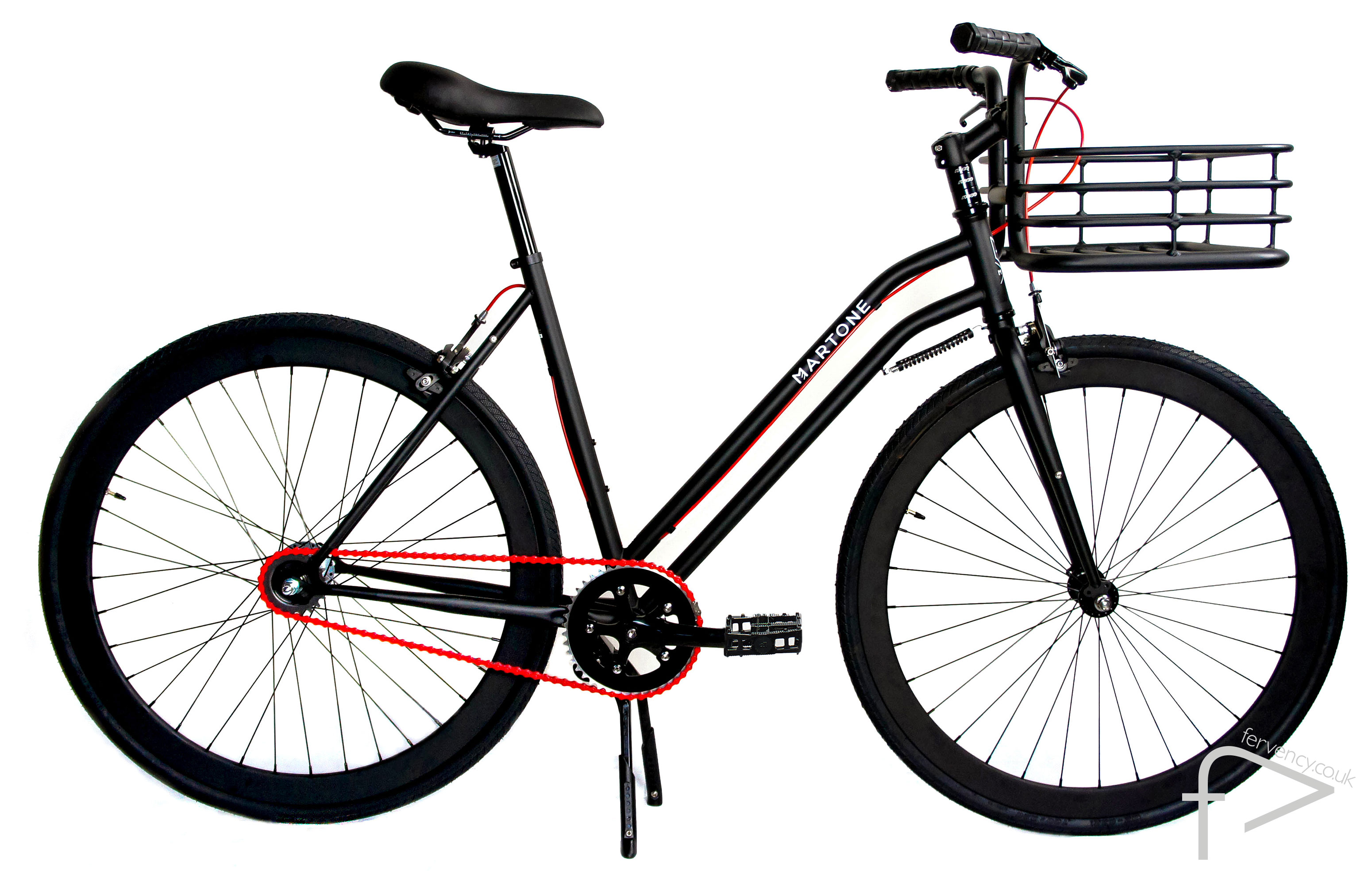 The Womens BLACK Mercer bike is composed of steel alloy and aluminum, weighing in at a mere 12 kilos. The wheels are 700 x 32cm wide with stainless steel hubs and puncture resistant tires to tackle city streets. Made by SRAM, the "MCC Duomatic" is an innovative 2 speed gear system that shifts gears automatically depending on slope and speed, letting the rider glide smoothly, in style.
The standard womens frame size is 44cm (17.3'). There is only limited stock of the 50cm frame size. This bike will only come in 44cm Frame Size once the 50cm has run out, it is already available in 44cm Frame Size which is suitable for Heights of upto 1.8m. Please email to confirm which Frame size you require when ordering.
Womens bikes come with the Handlebar Basket all in one as standard, Mens bikes dont come with Baskets as standard.
Technical Details

FRAME & FORK: Hi-Tensile Steel
STEERER TUBE: 1-1/8" Threadless (28.6mm)
BRAKE TYPE: Aluminum Caliper side pull
HANDLEBAR WIDTH: Width - 560mm – Handlebar/basket all in one!
MATERIAL: Alloy T6
SPOKES: Stainless
TYRE: 28" (700 x 32c)
RIM SIZE: 26" (660mm)
WHEEL SET: 42mm Aluminum Double Wall
REAR HUB: 2-speed automatic shifting AUTOMATIX SRAM with built-in brake; no shifter, no cables, no maintenance!
SADDLE: 285 x 191 x 64 mm double density water resistant
CHAIN: KMC 1/2" x 1/8" (13 x 3mm) 96L always in RED
TOTAL WEIGHT: 26 pounds (11.8Kg)

Assembly: Bikes come in boxes 80% built. The pedals, front wheel, saddle, kickstand and handlebar need to be assembled - Martone Cycling Co recommends you take your bike to a bike store to be assembled by a professional mechanic.
The process is not complicated to do - but only a professional can guarantee that your bike is safe to ride. A mechanic can also adjust the height of the saddle perfectly to your size - making the ride even more comfortable. All charges related to assembly are at your cost and vary from mechanic to mechanic. Once again: Martone Cycling Co. recommends you do NOT assemble your bike on your own - we understand it is an extra expense - but it is once in your bike's life time – and we care about your comfort and safety!

Click here to view or download the Martone Bike Assembly Instructions in PDF Format.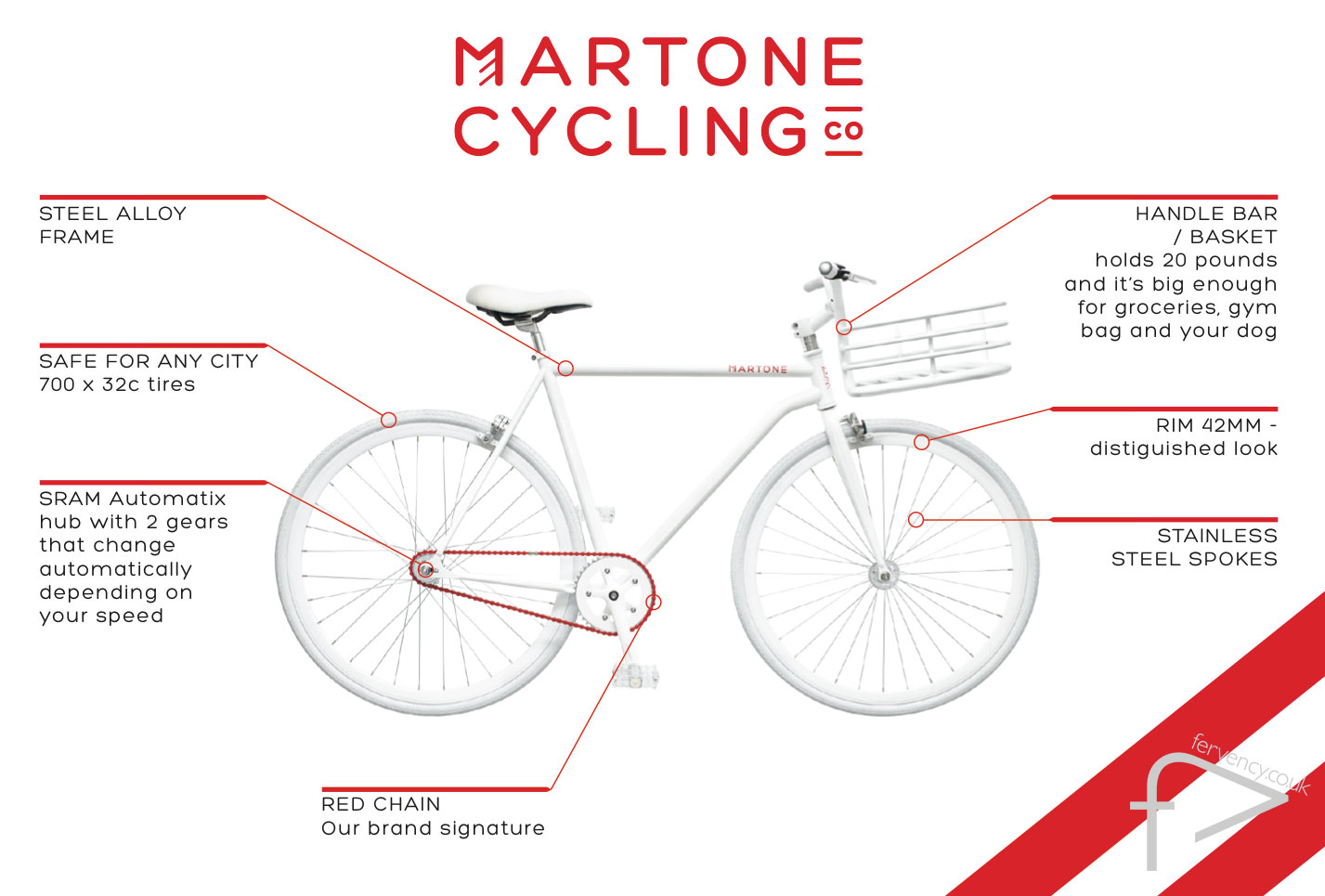 ABOUT MARTONE CYCLING CO by Lorenzo Martone
It's such a precious and rare occurrence in life to find something that inspires you and truly brings pure joy. I've been lucky to find a cherished few of these things. Biking was my first love. It was transformative – I could go anywhere with seemingly endless possibilities. Little did I know, that passion would stay with me through adulthood.
When I moved to Paris to study Luxury Brand Management at PGSM, I found myself in the very pinnacle of design and fashion inspiration – and in a city rich with its own unique biking culture, no less! It was there that my illusions of one day designing under my own aesthetic began to take shape.
And then came my love affair with New York City. Dirty, sexy, New York. I became immediately enamored with the art scene and all of its constant evolution and innovation. My passion for the arts influenced the way I saw the world and inspired me to push the limits in my own way, to show my own individuality.
Martone Cycling Co. is a culmination of all of my passions: biking, design, fashion, and art. Design-driven city bikes break the mold by refusing to sacrifice style for functionality. The Martone Cycling Co. collections of Sram Automatix 2 gear bikes, E-bikes and accessories are covetable must-haves for a biking lifestyle that is trending worldwide.
My bikes are designed for a modern breed of technology seeking, health conscious and environmentally mindful city-dwellers – who are obsessed with personal style and design. From chic baskets and lucite pedals to our signature red chains, Martone Cycling Co. designs bikes that perform perfectly on the street and display equally well as a design piece in the home.
Welcome to a whole new world of cycling that suits your style.
Enjoy the ride, - Lorenzo
You may also be interested in the following product(s)